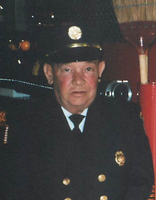 Richard Peter "Butch" Jessamine
Richard "Butch" Peter Jessamine, age 74, from Oxford, New Jersey passed away April 21, 2020 at Warren Haven Nursing Home. Butch was born on January 16, 1946 in Phillipsburg, NJ. He is the son of the late Dorothy Dunwell Smith and Peter Paul Jessamine.
Butch graduated from Washington High School in 1964. In 1967, he joined the Oxford Fire Company. He was a member for 53 years. He served as Fire Chief for the Oxford Fire Company from 1992-1993. Butch worked for Oxford Textile in production. He was an avid fisherman. He enjoyed coaching women's softball as well as being an umpire. Butch was a proud grandfather and great-grandfather.
Butch is survived by his sister, Paula Ann Jessamine; daughters, Annette Jessamine Case and Renee Jessamine Cmeyla; son, Richard Jessamine; grandchildren, Meghan Case, Alex Graham, Nathan Cmeyla; great-grandchildren, Logan Ressler, Cooper Graham, and Maisie Graham.
He is predeceased by his mother, Dorothy Dunwell Smith; stepfather, Charles Smith; brother, Paul "Petey" Jessamine; and his longtime companion, Merle Boyd.
In lieu of flowers, donations in Butch's name can be made to the Oxford Fire Company. A memorial service will be announced at a later date.