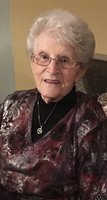 Anna G Szymanski
Anna G. (nee Burke) Szymanski, age 91, of Bethlehem, PA, formally of Washington, NJ, passed away on Thursday, March 4, 2021 at St. Luke's Hospital located in Bethlehem, PA. Anna was born on February 14, 1930 in Clooncrim, Ballinlough, Co.Roscommon, Ireland, to the late Harry Burke and the late Kathleen (nee Judge) Burke.
At the age of 17, Anna reluctantly said goodbye to her family and travelled to the United States by herself in search of opportunity. She worked as a governess when she arrived. Anna met her late husband, Stanley Szymanski, at a dance hall in Harrison, NJ. They began their family of six children in Kearney, NJ. Anna and Stanley moved to Washington, NJ in 1964 and lived there until 2011 when they moved to Traditions of Hanover Senior Living in Bethlehem, PA.
Anna was a devoted homemaker, wife, mother and grandmother. Blessed with the work ethic one would expect of a farmer's daughter, she also worked outside the home to supplement her family's income. She was most proud of her position as a school bus driver transporting special needs children to and from school. She was loved by many and easily sparked lastingfriendships. Anna never lost her Irish wit, and though a gentle soul and small of stature she could command any situation with a raised brow or sober glance. She enjoyed bowling, bingo, and playing cards with her girlfriends at Traditions. Most of all, Anna was a passionate fan of the NY Yankees. From the first days of Spring through the season's final pitch she never misseda televised game. In her down time, Anna enjoyed watching old westerns and Jeopardy (she'd marvel at "how smart" people can be).
Anna will be forever missed by her sons, Stanley Szymanski of Clinton, NJ, Alan Szymanski and his spouse Valarie of Holland Twp., NJ, Glenn Szymanski of Hawaii; daughters, Donna Camargo and her spouse Jaime of Easton, PA, Debbie Re and her spouse Joe of Easton, PA, Kathleen Wydro and her spouse Robert of Columbia, NJ; grandchildren, Christopher, Jared, Jillienne, Conor, Daniel, Cameron, Monica, Aedan, Gabrielle, Patrick, Kathleen, and Shannon; great-grandchildren, Jonah, Kacey, and soon-to-arrive great-grand twins; and her many cousins, nieces and nephews here and in Ireland (in particular, Patricia Ruxton and Pauline Smith, who she loved likedaughters).
Anna is predeceased by her beloved husband, Stanley Szymanski; siblings, Ulick, John, Mae, Paddy, Tommie, and Gerald.
Relatives and friends are invited to gather with the family on Tuesday March 9th,from 5:00 pm until 7:00 pm and on Wednesday morning from 9:30 am until 10:30 am at the Knoll-DeVoe Funeral Home & Cremation Service, 142 West Washington Avenue, Washington NJ 07882. A Mass of Christian Burial will be offered on Wednesday, March 10th at 11:00 am at St. Joseph's Church, 200 Carlton Avenue, Washington, NJ 07882.
Those who wish may view the Funeral Mass via livestream, Click Here for Livestreaming
Anna will be going home to Ireland where her interment will be held privately.