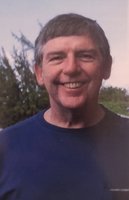 Robert E. Bosket
Robert Bosket, 67, of Washington, NJ passed peacefully at home on April 22, 2021, after a courageous battle with cancer and heart disease.
He is survived by his wife, Carol, daughter, Elizabeth Bosket (husband Scott Bauer) and granddaughter Colleen of Colorado and daughter Jacqueline (fiance Matthew Smith) of New York.
He was predeceased by his parents, Erwin and Mary Bosket, sister Mary Lou Galloza, and brother William Bosket.
All services will be held privately by the family.