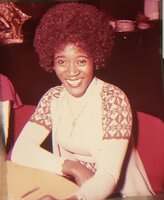 Edna Elizabeth Jackson
Reflection of Life
On the afternoon of August 24, 2021, Edna Elizabeth Jackson was called home to be with the Lord. Edna, affectionately known as Lit, was born on October 20, 1947 in Kershaw County, South Carolina to the late Jessie L. Belle (Jackson). She was raised by her loving grandparents Richard and Edna Mae Jackson.
Edna was a member of Ebenezer AME Zion Church as a child and graduated from Jackson High School in 1963 (both located in Camden, S.C.). After finishing high school, Edna moved to New Jersey and began working for Peerless Tube Co. located in Bloomfield, NJ. She was an excellent/hardworking employee for over 30 years. Following the closing of the factory she was later employed with NJ Transit until her retirement.
Edna was a woman of strength and grace. She gave of her time faithfully and was kind-hearted to many. Edna was a faithful member of New Hope Baptist Church in East Orange, NJ. Edna was made with an internal strength and courage that for such a small frame was amazing to bear witness to. She was a shoulder many could trust and call on. During her life Edna was an avid bowler and a very outspoken NY Yankee baseball fan.
She leaves to cherish her memory, her daughter Jeanetta Wiggins and son-in-law Kenya Wiggins; four grandchildren Justin Jerome, Kiana Simone, Layla-Imani Elizabeth, and Michael Moses all of Washington, NJ. One sister, Velma Lightfoot of Rockhill, SC. One Aunt, Carrie Owens of Paterson, NJ. One Uncle, Paul Jackson of Newfield, NJ. A nephew and niece Jeffrey & Marjeana