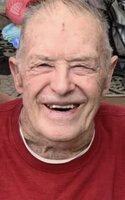 Weston Dean Voorhees
Weston Dean Voorhees, 86, of Belvidere NJ, went to be with the Lord on August 27, 2021. Born in Easton Hospital on June 14, 1935, he was the son of the late Raymond and Dorothy Burger Voorhees. Having been born on Flag Day, as a child, he thought people put flags out to celebrate his birthday. Weston graduated from Phillipsburg High School in 1953 and later attended Churchman's Business College for credits to be able to do the farm books. He was a lifelong dairy farmer who grew up on the family farm. He took music lessons and purchased a saxophone and clarinet. He just loved music and also loved square dancing. He joined the Stewartsville Grange #121 and met the love of his life, his future wife Leni Leupold. On November 24, 1961 Weston and his love Leni joined hands in marriage and were together for over 60 years. Weston was a Grange Master and Grange County Chaplain. He was a National member and received his 62 years membership.
Weston loved gardening and followed the weather like a meteorologist. Weston loved playing quoits and was very competitive. He was a member and officer of the church quoits league. At the age of 4, he became a lifelong fan of Phillipsburg football when his parents took him to the high school games, including the traditional Easton-Phillipsburg Thanksgiving Day game. He became a season ticket holder until Covid ended it all. Weston joined the Old Greenwich Presbyterian Church when he was 12 yrs. old and served as a church school officer for many years and as a Deacon. Weston was a loving husband, father, grandfather and friend to many. He will be sadly missed by all who knew and loved him, including his chocolate lab Misty, aka "Moose."
Weston is survived by his loving wife, Leni G.L. Voorhees; his three daughters Norma Voorhees DeLorenzo (Paul), Martha Grazul (John) and Elena Kantz (Jeffrey); 9 cherished grandchildren Paul, Clarissa, Deitrich, Joshua, Hannah, Jeffrey, Zachary, Caleigh and Elijah; and great grandfather to 2 great granddaughters, Julianna and Ilsa.
Visitation will take place on Friday September 3, 2021 between 6:00pm and 8:00pm at the Knoll-DeVoe Funeral Home & Cremation Service, 142 W Washington Ave, Washington, NJ 07882.
Funeral services will take place on Saturday, September 4, 2021 at the Old Greenwich Presbyterian Church, 17 Greenwich Church Road, Stewartsville NJ starting with a visitation between 10:00am to 11:00am, followed by the funeral service at 11:00am. Burial will follow at the Stewartsville Presbyterian Cemetery.
In lieu of flowers please make a donation in Weston's name to the Old Greenwich Presbyterian Church or to the Karen Ann Quinlan Hospice, 99 Sparta Ave, Newton, NJ 07860.