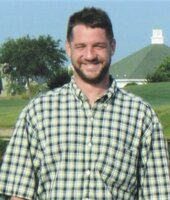 Jason Lee Horton
Jason Lee Horton passed away on September 1, 2021. He was 47 years old. Jason was the beloved son of Mark and Catherine Horton and beloved brother of Eric D. Horton.
Jason was a graduate of Warren Hills Regional High School, Class of 1992 and was a member of the National Honor Society and the recipient of the John Phillip Sousa award for musical achievement. He was a gifted musician and played lead saxophone in the Jazz Band and the Blue Streaks Marching Band.
Jason was accepted into the Rutgers University School of Engineering but instead pursued a career as a Master Electrician and would worked in this field his entire adult life. Jason enjoyed many outdoor activities including golf and tennis. He enjoyed listening to music and amassed an exceptional music collection that spanned many genres.

Jason was talented, hardworking, fun loving, courageous, sympathetic, intelligent, strong, generous and fearless. These are among the many attributes for which he will be remembered. The family requests your prayers for Jason's Eternal Peace.

All services will be held privately at this time.