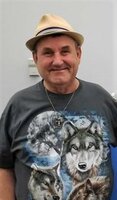 Arthur Dale Woolf Sr.
Arthur Dale Woolf Sr., age 79, of Phillipsburg, NJ, formerly of Belvidere, NJ, passed away Tuesday, November 30, 2021. Arthur was born on June 17, 1942 in Phillipsburg, NJ. Arthur was the son of the late Arthur Unangst Woolf and the late Myrtle Rush Woolf. A hardworking farmer, Arthur was kind and enjoyed greeting people at Walmart while on his bench. He was a loving father to his 5 children, and a very proud grandfather and great grandfather.
Arthur will be missed by his beloved companion, Mary Woodring; ; daughters, Patricia Brickman and her husband Barry, and Ellen Mann; sons, Arthur Woolf Jr., Keith Woolf and his wife Jennifer, and Roger Woolf and his wife Mickie; brother, James Woolf and his wife Mary Lou; sister, Marian Meixsell; grandchildren, Heather, Barry Jr., Holly, Arthur III, Joe, Christopher, Kelly, Jason, David, Serena, Ashley, Austin, Keith Jr., Johnathan, JaNell, and Jakob; step-grandchildren, Holly, Amber Marie, JennaSue, and Jesse; and 9 great grandchildren.
Art was predeceased by his beloved wife, Patricia Woolf, granddaughter Hillary Brickman and grandson Joshua Woolf.
Visitation for Arthur will be held on Thursday, December 2nd from 6:00 pm until 8:00 pm at Knoll-DeVoe Funeral Home & Cremation Service, 142 West Washington Avenue, Washington, NJ 07882. Cremation will be held privately. To share memories with the family please visit www.knolldevoefh.com