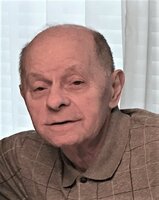 Theodor Hallmann
Theodor Hallmann, 89, passed away on Wednesday April 6, 2022 at Warren Haven Nursing Center in Oxford, NJ. He was born on January 17, 1933, in Forchheim, Germany, the son of the late Johann and the late Maria (née Stark) Hallmann.
Theo came to America in 1974, mostly residing in New York City until eventually moving to New Jersey. He had several different occupations throughout his lifetime and performed each one with the highest levels of quality and commitment.
Theo enjoyed singing tenor and listening to music - and was a talented harmonica player. He also enjoyed dancing, gardening, traveling, walking and spending time with family and close friends. He was also very talented in repairs, using tools and crafting, and enjoyed wood carving as well.
Surviving are his siblings, Willi, Marga, Lena and Karl, and their families. He also leaves behind his life partner Elfriede Sachno and her sons' families including Corrina, Tanya, Andy, Jenny, Carolina, Daniel. And all who were privileged to know Theo as a brother, "Opa", and very special friend.
All services will be held privately under the care of Knoll-DeVoe Funeral Home & Cremation Service, Washington NJ. To share memories with the family, please visit www.knolldevoefh.com
Theodor Hallmann, 89, starb am Mittwoch, den 6. April 2022 im Warren Haven Nursing Centre in Oxford, NJ. Er wurde am 17. Januar 1933 in Forchheim, Deutschland, als Sohn des verstorbenen Johann und der verstorbenen Maria (geb. Stark) Hallmann geboren.
Theo kam 1974 nach Amerika und lebte hauptsächlich in New York City, bis er schließlich nach New Jersey zog. Er hatte sein Leben lang verschiedene Berufe und übte jeden mit höchster Qualität und Hingabe aus.
Theo sang gerne Tenor und hörte Musik – und war ein talentierter Mundharmonikaspieler. Er genoss auch das Tanzen, Gärtnern, Reisen, Wandern und Zeit mit der Familie und engen Freunden zu verbringen. Er war auch sehr talentiert in Reparaturen, im Umgang mit Werkzeugen und im Handwerk und genoss auch das Holzschnitzen.
Überlebt haben seine Geschwister Willi, Marga, Lena und Karl, und ihre Familien. Er hinterlässt auch seine Lebensgefährtin Elfriede Sachno und die Familien ihrer Söhne, darunter Corrina, Tanya, Andy, Jenny, Carolina, Daniel. Und alle, die das Privileg hatten, Theo als Bruder, "Opa", und ganz besonderen Freund zu kennen.
Alle Dienstleistungen werden privat unter der Obhut von Knoll-DeVoe Funeral Home & Cremation Service, Washington NJ, abgehalten. Um Erinnerungen mit der Familie zu teilen, besuchen Sie bitte www.knolldevoefh.com






.