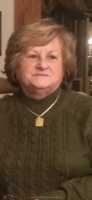 Rita Aurenzi
Rita Aurenzi, 86, of Washington, New Jersey, passed away suddenly on June 26, 2022.
Born in Ascoli Piceno, Italy, Rita emigrated to America, where she went on to become a Master Seamstress at La Boutique, working on many wedding dresses. Rita would make and create clothing for her family, finding joy when she would see her children wear clothing she designed.
Rita was Co-Owner of Aurenzi Mushroom Farm, a member of the Women's Auxiliary in Washington, and a faithful parishioner of St. Joseph's Roman Catholic Church in Washington.
What made Rita happiest was being with her family. An excellent cook, Rita would never eat or serve food out of a can, always cooking food from scratch. There wasn't a family member or friend who hadn't had the chance to share a meal at her table. Luckily for her family she passed her love and cooking skills onto her grandchildren to continue to honor their family traditions. Rita adored "The Italian people" and was proud to say Pope Nicholi was born in her childhood home. She also had the highest of admiration for Padre Pio and all of his good works.
Rita is survived by her loving children, Emma Hiers, Adolfo Aurenzi, and Margie Kolatac and her husband, William, and her adoring grandchildren, Jeffrey Hiers, Nicholas Hiers, Julia Aurenzi, Christina Kolatac and Heather Kolatac. Rita is also survived by her caring siblings, Enio Berardini, Ricardo Berardini and Lola Ottavini.
Rita is predeceased by her beloved husband, Riccardo Aurenzi, and cherished brothers, Risoldo Berardini, Liciano Berardini, Dante Berardini and Bruno Berardini.
A Memorial Mass of Christian Burial for Rita will be held on July 20th, 2022 at 11:00 AM, at St. Josepsh's Catholic Church located at 200 Carlton Avenue, Washington, New Jersey 07882.
Arrangements are entrusted with Knoll-DeVoe Funeral Home & Cremation Service, Washington, NJ.