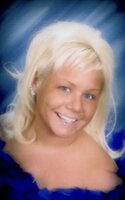 Jennifer Anne Paulson
Jennifer Anne Paulson, age 37, of Belvidere, NJ, passed away suddenly on Friday, August 26, 2022. She was born on June 24, 1985, in Phillipsburg, NJ to Stanley A. Paulson and Jeanette A. (nee Brazinski) Paulson.
Jennifer was a 2003 graduate of Belvidere High School and attended St. Patrick's Catholic Church in Belvidere. Jennifer would go on to attend Empire Beauty Academy where she began her career as a cosmetologist. She was most recently working at a hair salon in Whitehall, PA.
Jennifer will be remembered for her love of dancing, music, animals, and most of all her son, Trey.
She is survived by her parents, Stanley A. Paulson and Jeanette A. (Brazinski) Paulson, and her son Trey Jaiden Crosby. Also surviving are her Aunt's, Uncles and numerous cousins.
Services for Jennifer are private at this time, with a Memorial Mass to be scheduled at a later date. To send words of condolence to her family, please visit www.knolldevoefh.com